5 Wire Resistive Touch Screen
GreenTouch apecialize in 5 wire touch screen panel since it established. Our resistive screens range in 7.0 inch to 22 inch.Believe that so multi size can meet your needs.The touch screen come with a controller and support usb or RS232 interface.It working with GPS touch screen,POS touch screen,car touch screen,coffee table touch screen and so .
Overview
GreenTouch touchscreens are based on proven 5-wire resistive technology, the preferred solution for applications that demand reliability, input flexibility, and contamination resistance.The screens work with standard EETI/GreenTouch controller/chip solutions and drivers under a wide variety of operating systems, and are available in a set of standard products as well as customized designs.
Quality
GreenTouch resistive touch screen is available with proprietary GreenTouch technology to deliver a touch response that is drift-free and accurate in high-use applications. It's designed to be integrated into almost any bezeled application for reliability and quality.GreenTouch delivers both X and Y measurements made on a stable rear glass layer where many other resistive touchscreen designs use a flexing plastic coversheet to measure only one axis. As a result, GreenTouch resistive touchscreens provide a longer product life, designed to withstand more than 5 million touches.
Industry Standards
GreenTouch touch screencan be sealed against contamination to support NEMA 4/4x/12 and IP65 standards. Every screen meets pencil hardness 3H per ASTM D3363. Agency approvals include CE, FCC and RoHS Class A.
Customizable
GeenTouch provides a wide range of customization options to meet your requirements, including screen size, FPC outlet location, length, ITO glass thickness, LOGO, flat black / white border POS machine application and matte anti-newton ring, bright surface treatment such as anti-newton ring.
Applications
Point-of-sale (POS) terminals,voting, ticket and lottery terminals,industrial automation,industrial panel PC,medical equipment,office automation,retail automation,pharmacy automation.
Other Products
We focus on touch application since established.Our products widely acclaimed from the indoor or outdoor customer because of our top quality products.In addition 5 wire resistive touchscreen, we also supply 4 wire resistive touch screen,capacitive touch screen ,infrared touch frame,capacitive touch foil,touch monitor,touch all-in-one PC and other touch products.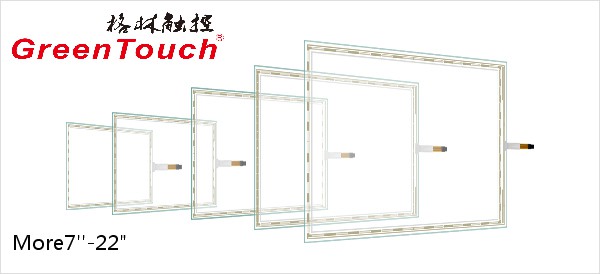 Product Parameters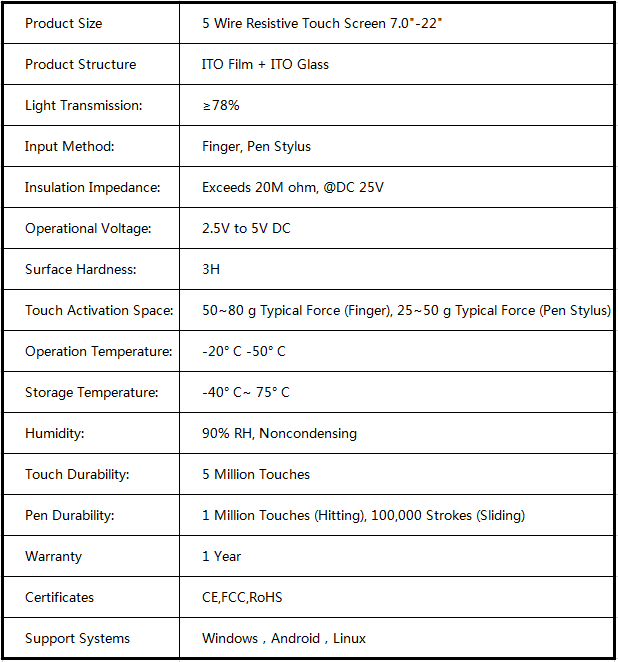 Size drawing of 12.1 inch 5 wire resistive touch screen: