How to choose the right home elevator villa elevator
2021-04-19
Elevators are often seen in our daily life. Today, Xiao Bian brings you an Elevator for Home Elevators. It is an elevator that is installed in private homes and used only by single family members. So how to choose a home elevator lift ? Next, let's take a look and see.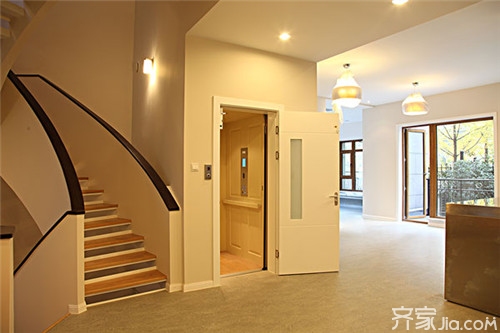 [What kind of structure of home elevator or Villa Elevator]
The structure of private houses determines that the choice of home elevators or villa elevators should adopt the machine-room-free home elevator structure, thereby maximizing the construction cost and the construction space, while taking care of the appearance and aesthetics of the house.
[Select hydraulic drive or traction drive home elevator]
The hydraulic villa elevator belongs to the traditional home elevator design and has a lot of use in North America and Europe. However, due to factors such as oil spills polluting the environment, running noise too much, and wasting a lot of power, it is not in line with the development concept of environmental protection and energy saving of the modern elevator industry, like the passenger hydraulic elevator, and it is gradually being phased out. It has been around the world for more than a decade. Within the scope of its rapid decline in sales, the proportion of not more than 3%, and the vast majority used for freight elevators or large tonnage of special elevators, and no-room villa elevator because of environmental protection and energy conservation and save space in buildings, is being People use it heavily;.
【Structure and Implementation Method of Villa Elevator】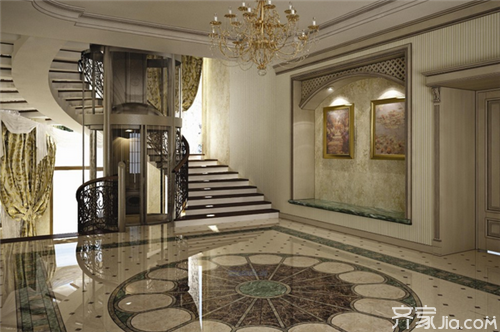 1)、Hydraulic home elevator or villa elevator pull door solution:
a. Structure: engine room, hoistway, pit, car, landing station;
b, the main components: hydraulic pump, control cabinet, car, guiding system;
c. Advantages: Simple structure, traditional home elevator driving mode;
d. Disadvantages: Organic housing, oil pollution, noise, occupying housing area.
2), machine room-less traction type home (villa) elevator automatic door program:
a. Structure: well and pit, car, landing station;
b, the main components: control systems, traction machines, door systems, counterweight systems, safety components, guidance systems, cars;
c. Advantages: The design of the machine-room-free design maximizes the use of architectural space, simple structure, and the highest level of safety design;
d, disadvantages: still need 300mm pit design
[Choose correct and suitable home elevator villa elevator]
a. Home Elevator Door opening methods are divided into hand-drawn doors and automatic doors: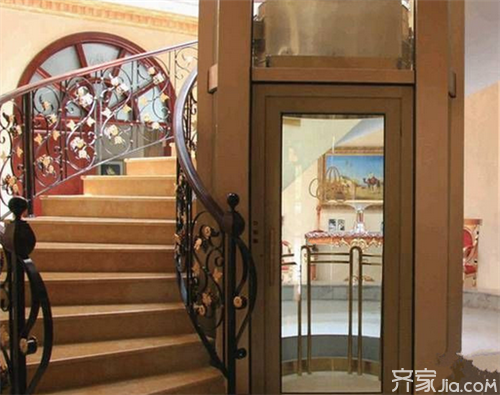 The structure of the hand-pulling door is similar to the door commonly used in our home, but the door lock linkage device is relatively heavy and the hand-pulling door has no car door protection design. There are objectively hidden security risks; the automatic door is the same as the public Passenger Elevator. Car door and hall door double protection, the difference is that more than 95% of villa elevators choose to open automatic doors. This is because the side-by-side automatic doors can save the construction area as much as possible and use the width of the hoistway as much as possible. At the same time, they can be used by handicapped persons and the elderly to fully reflect their profitability.
b. Choose PLC control or microcomputer controlled villa elevator
c. Select a home-use elevator or villa elevator with variable-frequency variable-speed VF drive:
The household elevators driven by frequency conversion and voltage adjustment were selected to make the operation more comfortable, smoother and energy-saving. The selection of traction home elevators was based on VVVF traction machines and inverter-driven configuration.
d, select LED lighting:
The biggest difference between LED lighting and conventional spotlights or incandescent lamps is that they are brighter, more environmentally friendly and energy-saving, and have a longer service life.
Summary: The above is a simple introduction to the content of elevators for household elevators . I hope to help everyone.
Villa Daquan Villa Design Villa Picture Villa Villa Design
We carry OEM parts for all major elevator and escalator brands:
Elevator doors, elevator automatic doors, elevator VVVF door, Mitsubishi elevator doors, Selcom elevator doors, WITTUR elevator doors, elevator door drive, Elevator door controller, elevator complete doors, elevator complete door system, elevator door modernization, elevator door operator, Selcom Hydra Plus elevator door operator, elevator door motor, elevator door lock, elevator door parts, elevator landing door, elevator landing door operator, elevator landing door device, elevator landing door hanger, elevator landing door Mechanism, elevator landing door header, Fermator elevator doors
Elevator Door System, Lift Door System
Elevator Automatic Door, Lift Automatic Door,
Elevator Cabin Door, Elevator Car Door, Elevator Cab Door
Lift Cabin Door, Lift Car Door, Lift Cab Door
Elevator Landing Door, Lift Landing Door
Cabin Door Operator, Car Door Operator, Cab Door Operator
Landing Door Device, Landing Door Mechanism, Landing Door Hanger, Landing Door Header
OTIS Elevator Door System, Thyssen Elevator Door System, KONE Elevator Door System, GiantKONE Elevator Door System, ThyssenKrupp Elevator Door System, Schindler Elevator Door System, XJ Schindler Elevator Door System, Xizi OTIS Elevator Door System, Mitsubishi Elevator Door System, Shanghai Mitsubishi Elevator Door System, Fujitec Elevator Door System, Hitachi Elevator Door System, Toshiba Elevator Door System, Hyundai Elevator Door System, LG Elevator Door System, Sigma Elevator Door System, Express Elevator Door System, GUANGRI Elevator Door System, FUJI Elevator Door System, BLT Elevator Door System, CANNY Elevator Door System, SJEC Elevator Door System, KOYO Elevator Door System, IFE Elevator Door System
Elevator Automatic Doors
,
Elevator VVVF Doors
,
Mitsubishi Elevator Doors
,
Selcom Elevator Doors
,
Fermator Elevator Doors
,
Elevator Doors
Hosting Elevator Co., Ltd. http://www.zjfullelevatorreplacement.com