Romantic Ruffled Lace Women's Straight Umbrella
A small umbrella is not just an ordinary rain gear, but also more interpretation of the true meaning of the umbrella culture "love" - love of love, love of love, love of life, love of the market, love of nature. ....
Under the sun, in the drizzle, the mother who is holding the umbrella is waiting for her child to go to school. The umbrella is soaked in the mother's love for the child, and the mother's eager hope is revealed in her eyes. Love and hope to play the mother's love of the umbrella.


Hyades want to provide the world with this Romantic Ruffled Lace Women's Straight Umbrella. So, the user can be an eye-catcher where ever they go from busy street to any gatherings. This can be used as a women's wedding prop parasol, it will surely fit. We also add a black ruffled lace around the edge that match up with the colour of the fabric.
To add some accent we decorated it with pink piping decoration so it will look elegant and fabulous. The user can use it in rainy or sunny days because the fabric has a mix of cotton and polyeste. We also incorporate it with a French closing band and fabric button to add elegance and romantic style even it is closed.
One of the unique features of This Romantic Cotton Women's Straight Umbrella is one piece shaft to handle. The shaft is curved to serve as the handle. It can allow the user to control the overall parts of the umbrella.
Hyades Umbrella has a reputation for competitive pricing and impressive range of umbrellas. Our ultimate goal has been to provide the most cost-effective umbrella with that too with good quality. We do so by ensuring that every umbrella we manufacture is durable, functional and value for money. We pride ourselves on living up to these standards.
Related Products: Women's Folding Umbrella With Carrying Bag | Classic Mens Straight Umbrella Hand Open | 16 Ribs Printed Women's Hand Open Straight Umbrella | Two Colors Windproof Dual layer Straight Umbrella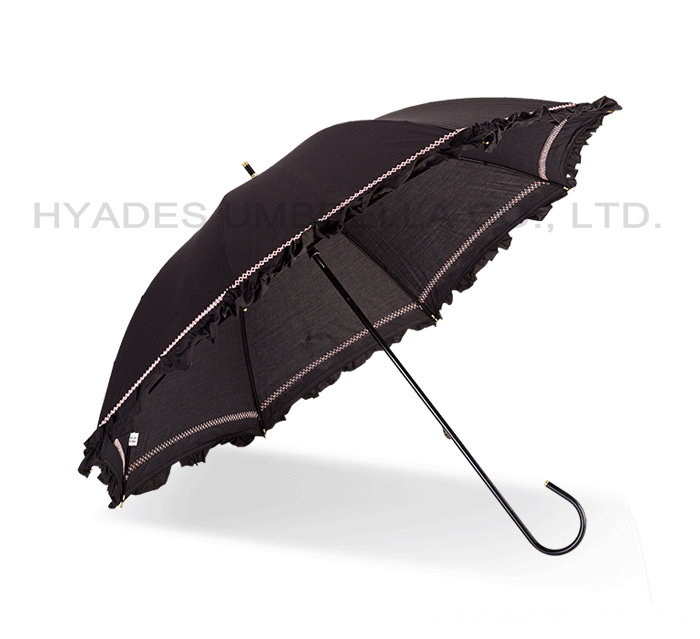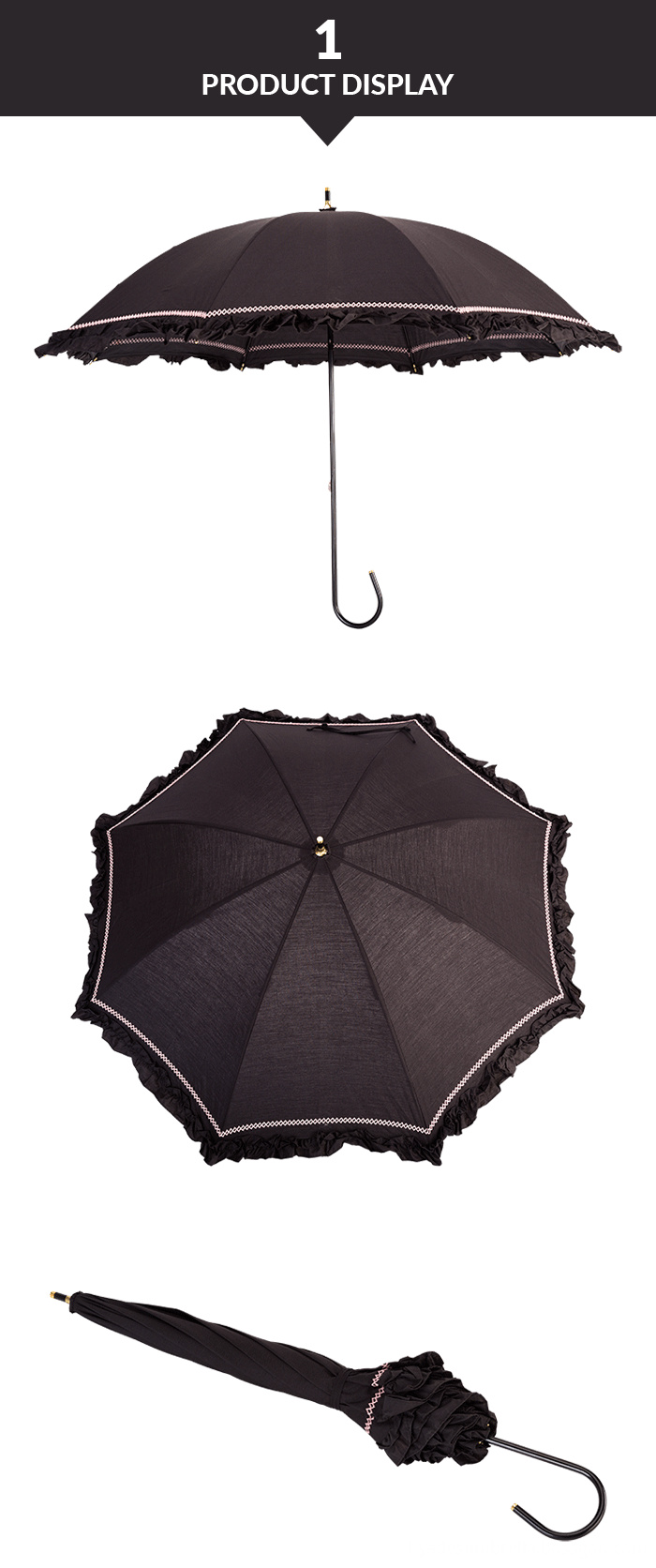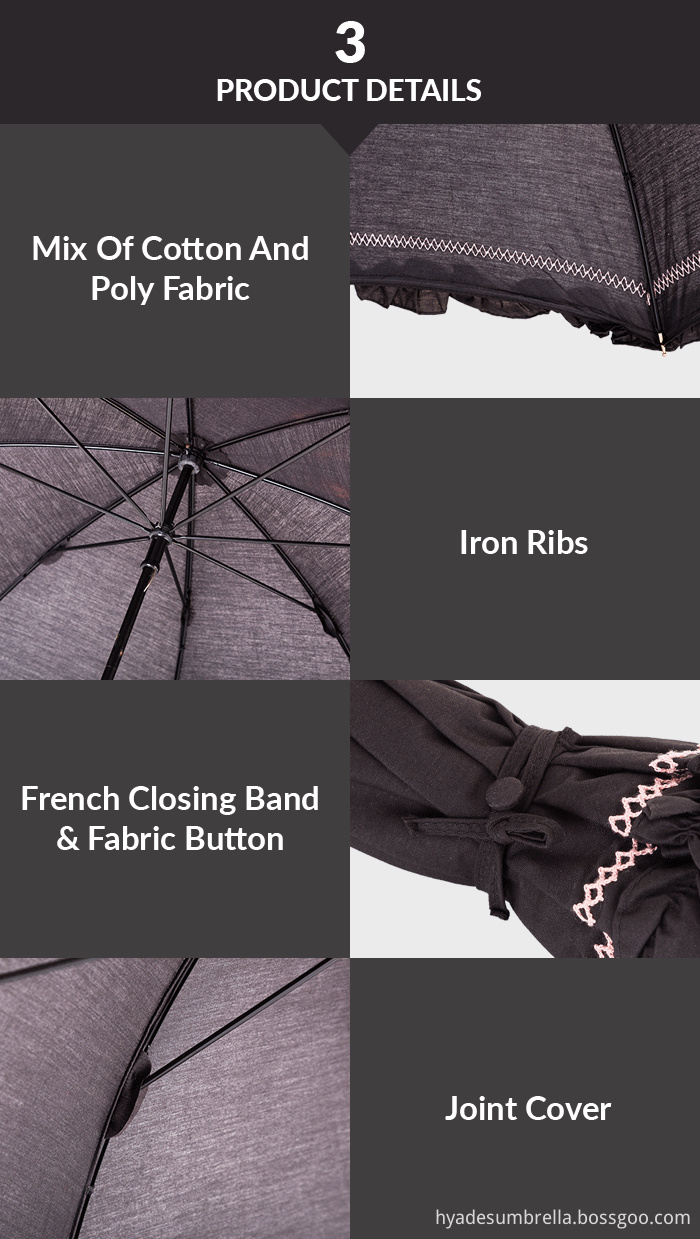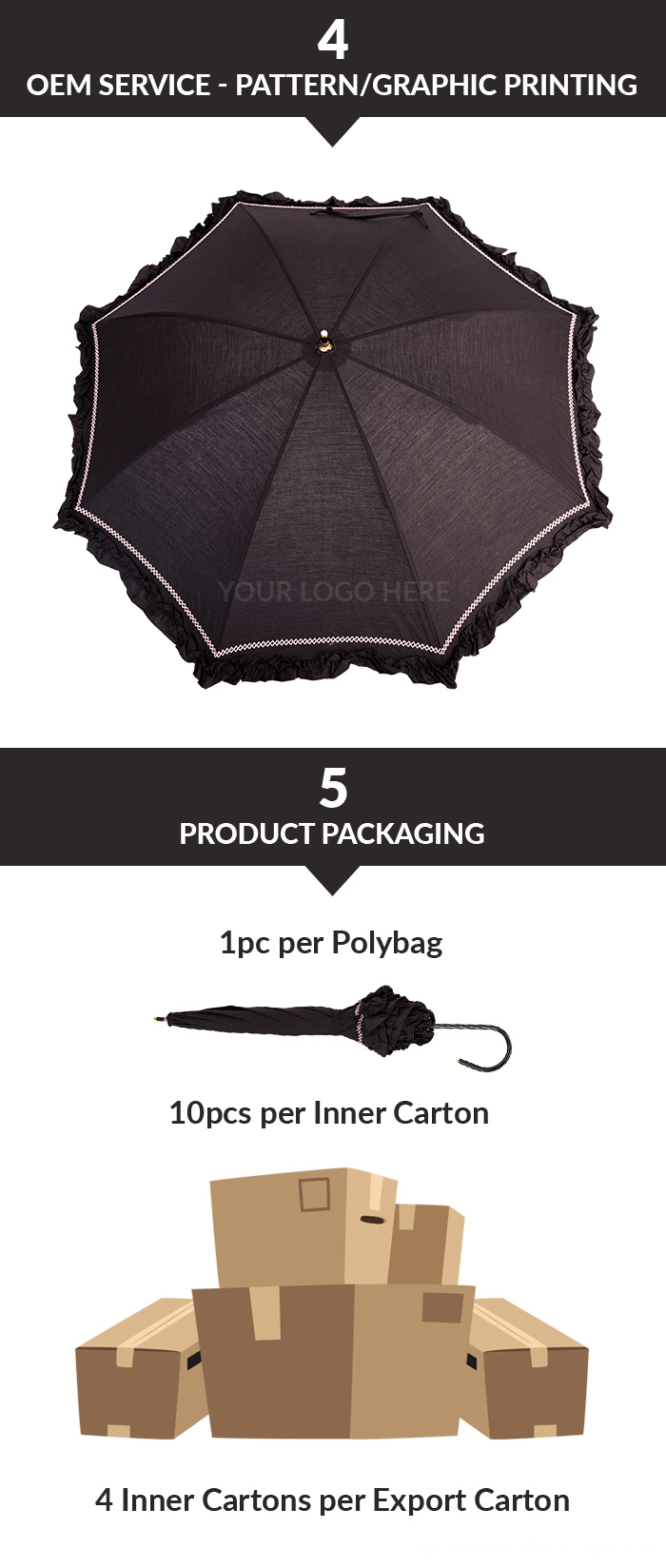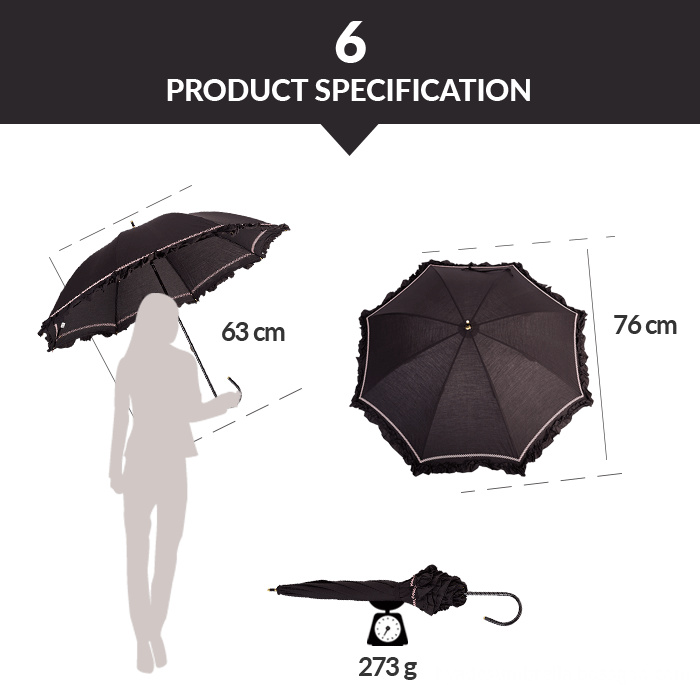 | | |
| --- | --- |
| *Details: | |
| Weight: | 273 g |
| Arc.: | 45 cm |
| Diameter: | 76 cm |
| Height: | 63 cm |
| Sleeve: | Optional |
| | |
| Fabric: | Mix Of Cottona And Poly |
| Waterproof: | Yes |
| Water-repellent: | Yes |
| | |
| Frame: | |
| Shaft: | Metal |
| Ribs: | Iron |
| Handle: | Metal |
Abou

t Us
Hyades Umbrella is a one-stop company that provides Support, Knowledge and Advice for your umbrellas. It is important to work with a company that has in depth knowledge of umbrella manufacturing. To ensure all technical elements are communicated accurately, we can provide precise specification sheets including materials, color swatches, samples as well as pre-production samples so the bulk production meets your design.
You can be assured of the best outcome and smoothest development process to market with the help of our team of experienced and knowledgeable Umbrella Masters.
Our umbrella-parasol production procedure: